Prof. Dr. Andrew Richard COLLINS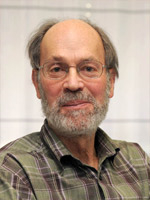 Institute of Basic Medical Sciences, Oslo, Norway

Present position: Professorat theDivision of Clinical Nutrition, Institute of Basic Medical Sciences, Oslo, Norway
Specialization in nanoscience: Nanotoxicology, Human Biomonitoring

At the NANOCON´16 conference Prof. Collins will present invited lecture in the Section D - Monitoring and Toxicity of Nanomaterials:
"High Throughput Genotoxicity Testing of Nanomaterials".
Education and professional experience:
A.R. Collins studied at the Cambridge University, where he has received his Ph.D. degree in Biochemistry in 1972 and the Sc.D. (Doctor of Science) in 2006.
Employment
1992 - 2002

Principal Research Scientist, Rowett Research Institute, Aberdeen, UK

1986 - 1991

Cancer Research Campaign Michael Sobell Research Fellow, Dept. of Molecular and Cell Biology (formerly Biochemistry),

University of Aberdeen, UK

1980 - 1986

Senior Research Associate, Dept of Zoology, University of Cambridge, UK

1979 - 1980

American Cancer Society Research Fellow, Eleanor Roosevelt Institute for Cancer Research, Denver, Colorado, USA

1974 - 1979

Research Associate, Dept of Zoology, University of Cambridge, UK

1973

Research scientist, Cambridge Coral Starfish Research Group, Port Sudan, Sudan
Research interests and activities:
DNA damage and mutagenesis, DNA repair in mammalian cells, Nutrition and cancer and Human biomonitoring; molecular epidemiology
Awards
Honorary Professor, The Robert Gordon University, Aberdeen (2000-2010)

Jan Jessenius Gold Medal, Slovak National Academy of Science, October 2000

First Jim Parry Award, UK Environmental Mutagen Society, June 2011